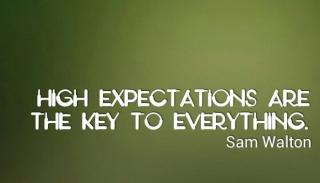 High expectations; is that to much to ask?
Nov 28, 2017
I have high standards;

I expect everyone in healthcare to also have high standards. Care should always be first and yet we continue to be challenged when we as a patient or as a family member ask for it.

As the healthcare system continues to be challenged to satisfy their "customer" because now they are being paid on the patient experience it baffles me why care is not the center and why the patient is not in control.

Recently when one our clients went to a convalescent home and admitted on a Friday, she asked the next day if she could have a list of her medications. She was told first that they would have to speak to the supervisor. The supervisor arrived who quickly responded that she would have to wait until Monday to get that list. Susan (not her real name) said she needed to know because she was supposed to be weaning off one of the medications but it didn't seem that was the case as the nurse was coming in every six hours instead of every 12 hours. Now she was told they would print out the list but the nurse would have to be there with her while she looked at it and couldn't have the actual list.

Susan also commented about the doctor who saw her the night before. She stated he was there about 5 minutes and said to her that her symptoms were psychosomatic. Not because he came to that conclusion but because he was told that from her paperwork at the hospital. Susan became defensive. You see Susan was a professor at an Ivy League School who was impacted about 10 years ago from paint that had VOC's and has been debilitated since. If her environment is controlled she can function. She has managed to do that in her home and has to wear a mask when she goes out to most places. Susan had a seizure a few weeks ago which she believes is related to the damage that she had from this exposure.

We met with the administrator on Monday along with the social worker, director of nursing and the daughter. Susan continued to discuss what her needs were and the fact that she could not get access to her information. Immediately the administrator stated that because of HIPAA it could not be released. We have an attorney whose expertise is HIPAA. I don't understand why these facilities cannot get it clear what HIPAA is and is not. It is NOT to protect the patient from their own information. The facility does NOT own that information the patient does. YET this continues to happen all the time

After discussing the issues Susan was able to get her list. When asked if she could change doctors she was told yes; they have three doctors. The social worker recommended another physician. When Susan asked if she could make an appointment the administrator immediately said "well that isn't the way it works they (meaning the doctors) fly in and fly out". I asked if the facility is paying the physician to be on staff. She responded "of course we do". I then said why would it be unusual to ask for an appointment. If a VIP was in the building this request would be honored immediately. In my mind there are no VIP's in healthcare but I know the dynamics of care changes completely when someone identifies someone as a VIP. Susan should be able to make an appointment with the physician. Not tell him when to come but he tells her when he can come, or approximately. We got no response from anyone.

So here is the problem; and I know I seem to always be bringing up problems. But honestly when I see something good happen, when the system works well I plaster it all over Facebook with names and places they happened. There are very few of those unfortunately.

Everyone in every entity in healthcare are advertising that the care is patient centered, collaborative, works with the patient, the best care, on and on and on. Hospitals spend millions of dollars to get this message out. YET the norm isn't that at all. I don't make these stories up but I share them. I don't use names because this happens in every entity in healthcare from providers to hospitals to long term/short term care. These are the stories no one hears about because their tired, or they die or they are scared. The nurse we confronted with asking for Susan's medication list actually left the room crying that day because she was so afraid of getting fired. This is the healthcare I am talking about that few talk about.

When are we going to make our system accountable so that expectations are delivered and aren't looked at as high expectations but experienced as the "norm". We all should have the highest standards and the highest expectations of our healthcare system and get rid of bad experiences.